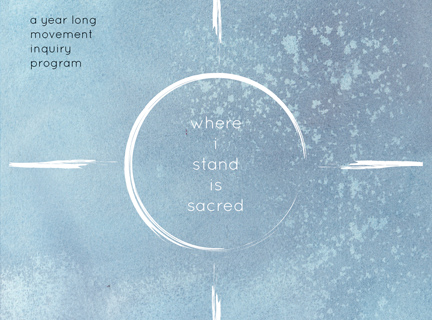 Where I Stand is Sacred ~
A year long movement inquiry program
Led by Meshi Chavez and Winky Wheeler

Begins again in February, 2021

Location: Momentum Studio • 1028 SE Water Avenue #250.


Where I stand is Sacred, is designed to strengthen your engagement in the sacred landscape of your life. This program spans four seasons, allowing us the time to develop an understanding of our relationship with each of the cardinal directions. Here we delve into the depths of our engagement with the movement of time and space.
With skilled facilitation you will be guided toward the unearthing of a personal embodied movement practice. Each module will include movement artistry, creative generation, and mindful inquiry. This program is designed to allow the creative process to continue off the dance floor with guided at-home self study and personal inquiries.
the place you stand -

you have not been forgotten
the place you stand has never left you

when the edges have worn away
a softness remains

the only thing in the way . . .
THE SELF

compassion is a shape-shifter and the road beyond doubt is easy
as long as we don't pick and choose

be over come with love, in that moment no one is hidden

a hoop
a perfect circle
the part of the spirit that never is touched by this existence

seeds planted in unseen soil
shaping the course of your life

go into the things
observe with the senses
they are calling you

listen
this moment is sacred

~ meshi chavez
Led by Meshi Chavez and Winky Wheeler


With a creative collaboration that spans over twenty years, meshi chavez and winky wheeler bring their shared passion for movement, creativity and the natural world to this inquiry program. As co-founders of momentum studio they remain committed to bringing unique movement experiences to you through ongoing classes, workshops, and events.
Home | Weekday Classes | Inquiry Program | Workshops & Events | Calendar | What to Expect | Meet Us | Rent Our Space
Site created by Indigo Tiger Design - 2008/www.indigotigerdesign.com