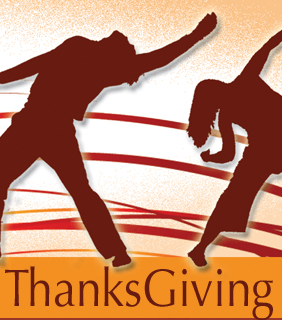 Thanksgiving Day Dance
Lets start the day dancing our gratitude
With Meshi Chavez and Winky Wheeler
November 22, 2018 • Thanksgiving Day
10:00 am - Noon
$25 - $20 Sliding Scale
Location: Rennaissance School, 0234 SW Bancroft Street
Dance your gratitude: gratitude for these amazing bodies, this spectacular community and the power of dance.
This Thanksgiving come and move your heart and body at Conduit.
Winky and Meshi will hold this two hour dance event as we have for many years.
This is a wonderful way to start your Thanksgiving day, and get some exercise before feasting!
About the Instructors

Meshi Chavez

holds a Personal Training Certification with the National Academy of Sports Medicine. He regularly teaches movement class and has been a Licensed Massage Therapist for the past 9 years. Meshi seeks to help individuals feel comfortable moving in their bodies on and off the dance floor.

Winky Wheeler

sees inhabiting the body through dance as a powerful and transformative act on the path of self-discovery, personal change and fully engaged living. She delights in the way our dance moves us and influences the world around us.
Home | Weekday Classes | Inquiry Program | Workshops & Events | Calendar | What to Expect | Meet Us | Rent Our Space
Site created by Indigo Tiger Design - 2008/www.indigotigerdesign.com