Momentum: Conscious Movement
(Last update: 6/16/2021)
Due to the Corona Virus we have suspended our in person classes until further notice. You can dance with us from home via online video Zoom classes or our Daily Dance from Home program.
Learn more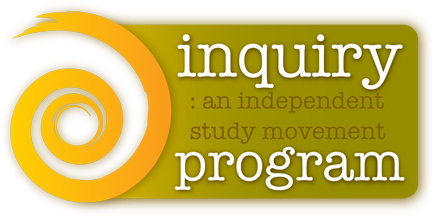 With either Meshi Chavez or Winky Wheeler
Three Month commitment with your own start date
Local or out of town participants welcome.
$350 includes initial interview, Inquiry Journal, customized program and six personalized mentoring sessions

Contact Meshi Chavez 503.730.2737, meshichavez@icloud.com or Winky Wheeler 503.788.8060 wwd@comcast.net for your application

Seeker, Dreamer, Explorer of the Unknown ~
Here is an independent study program tailored specifically for you. You have a yearning, a desire, dreams that you are not sure how to fulfill.You have questions tugging at the edges of your being. Personal INQUIRY supports your search for ways to begin a practice,deepen one you've already built and assist you in understanding the confluence of the richness of your life. It provides the tools towards unearthing your deepest curiosity while illuminating the pathway. Letís explore together.
In our Personal Inquiry Movement Program you work with Meshi Chavez or Winky Wheeler to co-create a customized program for you to delve into your inquiry. This three month program includes six personalized mentoring sessions which provide accountability, support, and refinement.
We will assist you in the development of an engaged movement practice, and may encorroporate other creative pursuits, such as: journaling, reading, artistic expressions and other contemplative practices. This is a unique opportunity to cultivate a more intimate relationship with yourself, develop your curiosity and maybe even discover a new way of being in the world.
About the Instructors

Winky Wheeler:

I've been dancing and teaching in Portland, Oregon for well over a decade ~ nearly 15 years! I love to witness the unfolding of the dance as people discover and deepen their own relationship to their body and to movement. There are these moments when the dancer cracks open into a whole new way of moving, a whole new way of relating to themselves and to each other. It's magnificent to see, and the ways in which that ripples out into their life is what keeps me engaged and coming back for more! I look forward to the ways that we'll unfold and crack open at this workshop.

Meshi Chavez

has been teaching, creating, and performing dance in Portland Or for the past 10 years. He continues to be enthralled with the simple yet profound impact that movement has on the mind and Spirit. He truly believes that dance is a portal to happiness and the body can be fine tuned like a race car to propel you into the great unknown.
Testimonials
"My entire concept of creative potential has been deeply transformed in just a few months of working with Meshi one-on-one. I initially came to him with the inklings of abstract questions -- but it was as if Meshi knew exactly what I needed at this juncture on my artistic journey. He drew out the themes, exercises and pathways for me to move much deeper into the inquiry. What followed was an entirely unexpected and perfect discovery of the essence of what I needed to learn. I received rigorous but compassionate guidance and concrete tools and practices I could use outside of our sessions to further my understanding. I came to a platform for creative production that I envision unfolding for months and years to come, perhaps a lifetime. Meshi brings profound insight, a generous quality of attention and great humor to the work. I feel very blessed at the opportunity I had to work with him get a taste of the mastery of his experience and curiosity around movement practices and embodied self-knowledge." ~ Karima
Home | Weekday Classes | Inquiry Program | Workshops & Events | Calendar | What to Expect | Meet Us | Rent Our Space
Site created by Indigo Tiger Design - 2008/www.indigotigerdesign.com