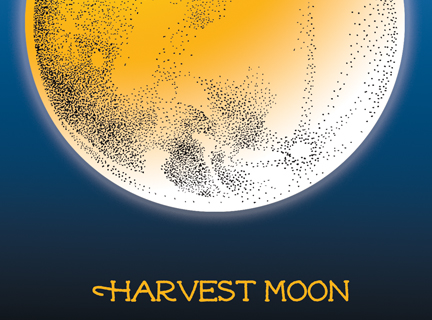 Harvest Moon
Big fun under the full moon
with Winky Wheeler and Meshi Chavez
September 14-16, 2018
Early registration by September 2: $110 full weekend
After September 2: $135 full weekend
Partial attendance: $75
Sunday only: $25
Families Welcome ~ Kids under 12 are free
Limited Scholarships/Work exchange available
Registration: Meshi Chavez 503.234.2848 or meshichavez@icloud.com
Location: Private land, McMinnville Oregon • Directions provided upon registration
At the tail end of summer, under the Harvest Moon, we gather in McMinnville, on Joe McLaughlins land to dance in good company and have fun together. We'll eat, dance and celebrate together! There will be a Gratitude Dinner, food, fun, games, frolicking in the pool and of course a lot of dance under the big sky.
Friday night:

potluck and dance under the stars.
Saturday:

easy morning with byo breakfast, then we'll do Morning Dance Practice with a mini workshop, followed by a byo lunch. The afternoon will be spent playing together ~ bring your favorite game and we'll play it! The day culminates when we get dressed up and sit down for our Gratitude Dinner.
Sunday:

our final morning together with byo breakfast followed by an intriguing beginning for Sunday morning dance! This is the place to be!
Doesn't that sound like an awesome way to spend the weekend?
*Note that we will not offer a Sunday morning dance in Portland on September 16.
About the Instructors

Meshi Chavez

has been teaching, creating, and performing dance in Portland Or for the past 10 years. He continues to be enthralled with the simple yet profound impact that movement has on the mind and Spirit. He truly believes that dance is a portal to happiness and the body can be fine tuned like a race car to propel you into the great unknown.

Winky Wheeler:

I've been dancing and teaching in Portland, Oregon for well over a decade ~ nearly 15 years! I love to witness the unfolding of the dance as people discover and deepen their own relationship to their body and to movement. There are these moments when the dancer cracks open into a whole new way of moving, a whole new way of relating to themselves and to each other. It's magnificent to see, and the ways in which that ripples out into their life is what keeps me engaged and coming back for more! I look forward to the ways that we'll unfold and crack open at this workshop.
Home | Weekday Classes | Inquiry Program | Workshops & Events | Calendar | What to Expect | Meet Us | Rent Our Space
Site created by Indigo Tiger Design - 2008/www.indigotigerdesign.com