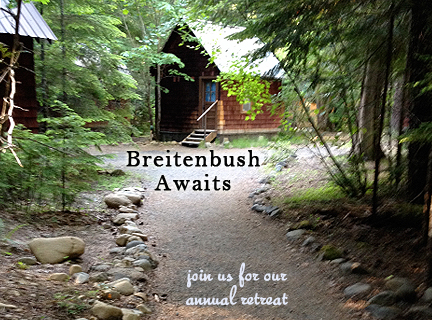 Breitenbush Summer Retreat 2018
Movement Artistry: Imagination, Body and Environment
Dance in fathomless connection with nature.
Eat, soak, and find yourself in movement.


with Winky Wheeler and Meshi Chavez
June 7-10, 2018

Begins with Thursday Dinner and Ends with Sunday Lunch.
Space is limited, pre-registration required
Location: Breitenbush Hot Springs, Detroit Oregon
Everyone is a dancer and everything around us is part of the dance.... Sometimes we just need a little help remembering that. Join us for a movement journey into a new experience of your own body, your moving relationship to others and the spaces between us. We'll offer tools that create doorways into new movement possibilities, while activating our imagination, senses and connecting with our vitality. The smallest flutter in ourselves, others or a blade of grass is sensed and seen with our whole bodies and responded to through movement, with curiosity and creativity. We develop the skill to be present to the fleeting moment and to find our dance wherever our feet are. We [literally] dance both inside and outside in this workshop, deepening our connection not only to ourselves and each other but the forest, river, wind and the ground beneath our feet. All levels of movement experience are welcome....just bring an open mind and a willingness to unfold.
Early Bird by 5/8/2018: Presenter Fee $370
After 5/8/18: Presenter Fee $395
Meals and Lodging:


Cabin with Bathroom: $477
Non-bathroom Cabin: $381
Bbush Tent or the Dorm: $285
Personal Tent: $243

Day Use Fee: $22.50

Lodging options are limited and allotted on a first come first serve basis.
Information & Registration: Meshi Chavez 503.730.2737, pivotalmassage@mac.com or Winky Wheeler 503.788.8060 wwd@comcast.net
About the Instructors

Meshi Chavez

has been teaching, creating, and performing dance in Portland Or for the past 10 years. He continues to be enthralled with the simple yet profound impact that movement has on the mind and Spirit. He truly believes that dance is a portal to happiness and the body can be fine tuned like a race car to propel you into the great unknown.

Winky Wheeler:

I've been dancing and teaching in Portland, Oregon for well over a decade ~ nearly 15 years! I love to witness the unfolding of the dance as people discover and deepen their own relationship to their body and to movement. There are these moments when the dancer cracks open into a whole new way of moving, a whole new way of relating to themselves and to each other. It's magnificent to see, and the ways in which that ripples out into their life is what keeps me engaged and coming back for more! I look forward to the ways that we'll unfold and crack open at this workshop.
Home | Weekday Classes | Inquiry Program | Workshops & Events | Calendar | What to Expect | Meet Us | Rent Our Space
Site created by Indigo Tiger Design - 2008/www.indigotigerdesign.com