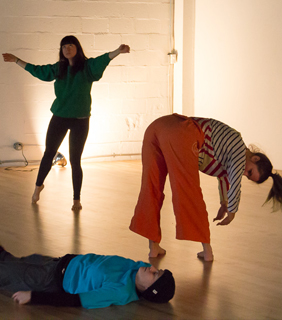 Friday Night Play ~
with Tracy Broyles
Friday, 6:00 - 7:30pm
$12 - $15 sliding scale.
All are welcome

Location:
Momentum Studio • 1028 SE Water Avenue #250 • Portland Oregon
As a teacher, Tracy's classes include somatic explorations, use of consciousness, and physical training. They access the body as a tool for artistry, self care, healing, knowledge or power. We will try on different states of being as you discover and explore hidden gems within yourself. Energy Work, movement, and objective observation are used as training, as well as metaphors for your own personal habits, desires, blocks and freedom. In dance class, improvisation is integrated to allow for fun, integration, and playfulness.
FRIDAY NIGHT PLAY
When we are more empty, when we are more radiant, our dance is more dancing us- we become the vessel for the emergence of something curious and mysterious.
When we dance we are still our whole selves, including our unresolved blocks, unconscious and unfelt emotions and ideas that are driving us. Energy moves fluidly and expansively until it gets trapped, or eddies or swirls around a hardened feeling, thought, concept- located in the body. Then we flood it, or untangle it, or melt it so we can regain what is trapped and the energy continues.
Play and learn and practice to both know yourself more and less. Challenge your ideas of what movement is, and who you are as a dancer.
Class will include warm up and extended play. The warm up will address multiple systems in the body/mind/energy/inquiry/somatics/imagination/sensation realm, as well as introducing curiosity around that days theme. Extended play will be a long form improvisation score, introduced and created by the days warm up and themes, even if its lost/forgotten/released/rebelled against/remade.
About the Instructor
Tracy Broyles

is a Portland- based dancer, choreographer, movement instructor and energy counselor, that has been active in the community since 2000. She believes that art and healing both arise from the place where body and consciousness meet. Recent choreographic projects include the group work HYDE, 2015- an exploration of dark energies in the psyche, and the interdisciplinary THE OBSERVER EFFECT, which followed a score of the elemental creative cycle, and toured to Baltimore in fall of 2016, after opening in Portland in 2013. As a certified Core Energetics Counselor Tracy supports others in connecting with what is best in themselves, while uncovering and accepting what is most hidden. She cares about collective, archetypal stories and the way science, nature and spirituality come together. She has shown pieces and performed in San Francisco, Oakland, New York and Seattle, as well as Portland, where she has created seven evening-length works to date. Tracy's work has been supported by grants from RACC, the MRG Foundation, and individual donors, and residencies through Signal Fire, Caldera, Studio Two. She attended Deborah Hay's Solo Commissioning Project in 2010 and is now a keeper of Art and Life. She has recently danced in Tahni Holt's Sensation/Disorientation presented by White Bird.
Home | Weekday Classes | Inquiry Program | Workshops & Events | Calendar | What to Expect | Meet Us | Rent Our Space
Site created by Indigo Tiger Design - 2008/www.indigotigerdesign.com